We're rather excited about this new addition to our listings.
Another fine cross over of Art and Bitcoin that is engaging, attractive and practical!!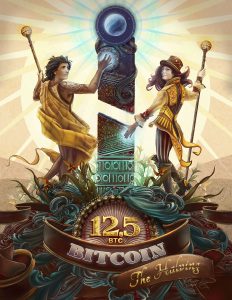 ART + TECHNOLOGY + MONEY
Cryptoart is a literal combination of art, technology, and money. Each piece is a hand-assembled limited edition Giclee print with the unique ability to store digital currency. Cryptoart has utility – Cryptoart can be loaded, unloaded, and reloaded with currency, collected or traded in person, stored or framed for your enjoyment. Cryptoart is trustless – QR code and private key can be changed without damaging the piece.
Cryptoart is rare – Each edition is published in a very limited quantity that doesn't inflate. Obtaining Cryptoart has a difficulty increase over time – The price of Cryptoart goes up as it sells out.
Confused about Bitcoin? Don't worry. Each art piece includes an easy 3-step guide to get you started. We will also include a small amount of digital currency for free! Later, you can add more.
GREAT MOVEMENTS ARE REFLECTED IN GREAT ART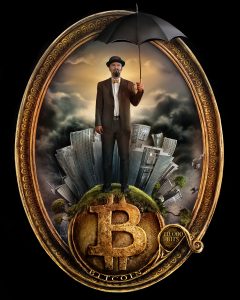 Cryptoart is a limited edition giclée printed with archival quality inks on heavy 100% cellulose watercolor paper that is free of optical brighteners.
Cryptoart comes in three sizes, all of which are designed to fit ready-made frames.
Cryptoart comes with a certificate of authenticity.
SECURE OFFLINE STORAGE
Digital currency is valuable. Cryptoart safely stores Bitcoin (and other currencies) in a physically expressive and collectible form.
Add funds to Cryptoart by sending them to a QR code on the front of the art piece.
Remove funds using the "private key" located on the back of the art piece.
Limited editions
Complex imagery from talented artists
Small amount of currency included
Never expires
Makes a great gift
3 steps to Bitcoin tutorial included!
Redeemable at major exchanges